Mortgage Required are approved Help to Buy Mortgage Advisers and have helped lots of clients to buy a home through this government fantastic scheme.
With a Help to Buy: Equity Loan the Government lends you up to 20% of the cost of your newly built home, so you'll only need a 5% cash deposit and a 75% mortgage to make up the rest.
You won't be charged loan fees on the 20% loan for the first five years of owning your home.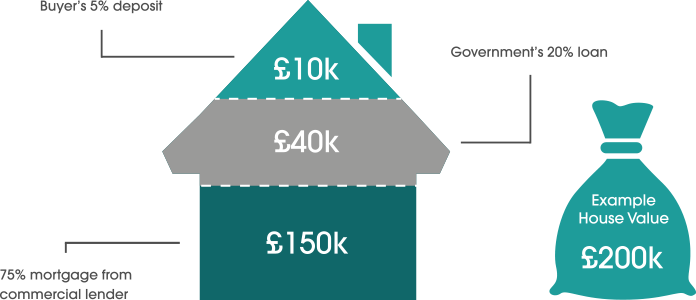 If the home in the example above sold for £210,000, you'd get £168,000 (80%, from your mortgage and the cash deposit) and you'd pay back £42,000 on the loan (20%). You'd need to pay off your mortgage with your share of the money.
But… what happens if property values fall?
When you sell your home, (unless you have repaid the Help to Buy equity loan document previously) the Help to Buy equity loan document commits you to repay a percentage of the market value equal to the percentage contribution of assistance received.
This means if the market value of your property falls below the level at which it was first purchased, you will repay less than the original amount the Agency contributed to the original purchase.
Here are the key features of the Help to Buy scheme:
Amount of loan
The maximum you can borrow from Help to Buy in England is £120,000 and up to £240,000 for London. There is no minimum amount.
Buyer deposit required
Buyers must provide a deposit of a minimum of 5% of the full purchase price of the home bought under this scheme.
Maximum Purchase Price
£600,000
Frequency, number and
amount of repayments

After five years you will be required to pay interest of 1.75% of the amount of your Help to Buy shared equity loan. This rises each year by the Retail Prices Index (RPI) plus 1%.

The loan itself is repayable after 25 years or on the sale of the property if earlier.

Other payments and charges
You must pay a monthly management fee of £1 per month from the start of the loan until it is repaid.
Total amount repayable

Total amount repayable The total amount repayable by you will be the proportion of the market value of your home that was funded by this loan, plus interest and charges.

The amount you will have to repay under the loan agreement will depend on the market value of your home when you repay the Help to Buy equity loan and the rate of inflation in the meantime.
To speak to one of our Help to Buy experts, please give us a call on 01628 507477.